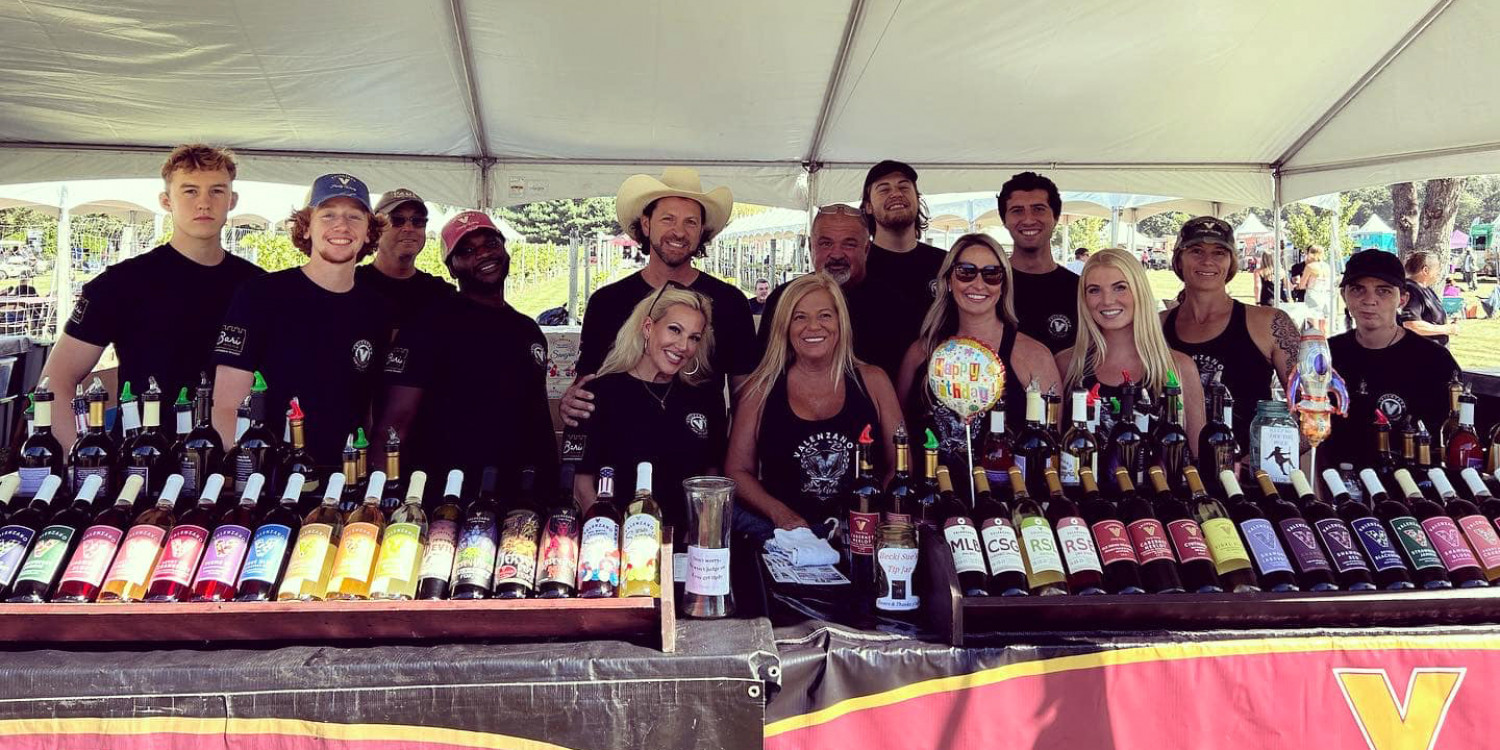 Meet The Staff at Valenzano Winery
Michelle
Meet Dan, our lead trouble shooter and all-around problem solver here at the winery! Being a life-long family friend of the Valenzano family, Dan has a lot of history with winemaking in Shamong, beginning his career in 2016. During his free time, you can find Dan on his boat in Long Beach Island with his family and Labrador retriever, Rubio. Dan is an advanced SCUBA diver and recently received his boat captain license which he uses on diving charters during his weekends. Dan is a partner owner in Brotherton Brewing Company in Atco, NJ.
Role:  Winemaker and Head Trouble Shooter
Favorite Wine:  Shamong Red Reserve
Michelle
Meet Michelle, our hard-working office administrator! While she dedicates most of her time to keeping our operations organized, you can occasionally catch Michelle pouring at a wine festival. When Michelle started in 2022 she took control of dozens of administrative tasks that were becoming overwhelming to the ownership.  In less than a year she became a key manager overseeing human resources, bookkeeping, audits, licensing, accounts payable/receivable, taxes, and every other administrative task thrown her way.  During her free time, Michelle enjoys spending quality time with her family and Bernese Mountain dog, Boone.
Role:  Office Administrator
Favorite Wine:  Malbec
Dawn
We're kicking off our NEW Meet The Staff series with everyone's favorite saleswoman, Dawn Toussaint Vendrasco! Whether you're at a wine festival or visited our spot at the Berlin Farmers Market, you've probably met her!
Dawn has been with Valenzano Winery since 2016.  Her husband Angelo and son Michael also have careers at the winery working along side her.
When she's off the clock, Dawn enjoys spending time with her grandchildren and sunbathing on the beach. ?️
Role: Outlets Manager
Favorite Valenzano wine: Plums Up Plum
Vince
Previously the Chef de Cuisine at River House at Odettes (New Hope), Executive Chef at The Plough & The Stars (Philadelphia) and Dream Cuisine Cafe in Cherry Hill, NJ., Chef Vince has a degree in Cuisinier / Pastissier - Institute of Tourine de L 'Hotelerie' & Restaurant School of INFATH in Nice, France. Through excellence he has received the James Beard Foundation "Outstanding Achievement" award.
Chef Vince has been given the responsibility of providing an inviting menu that pairs perfectly with the wines produced at Valenzano Winery. His 'favorite part of the job' is the freedom he has to produce weekly specials, small plates and desserts that allow him to demonstrate his life long passion and knowledge of French, traditional and new American cuisine.
Role:  Head Chef
Favorite Wine:  Sauvignon Blanc