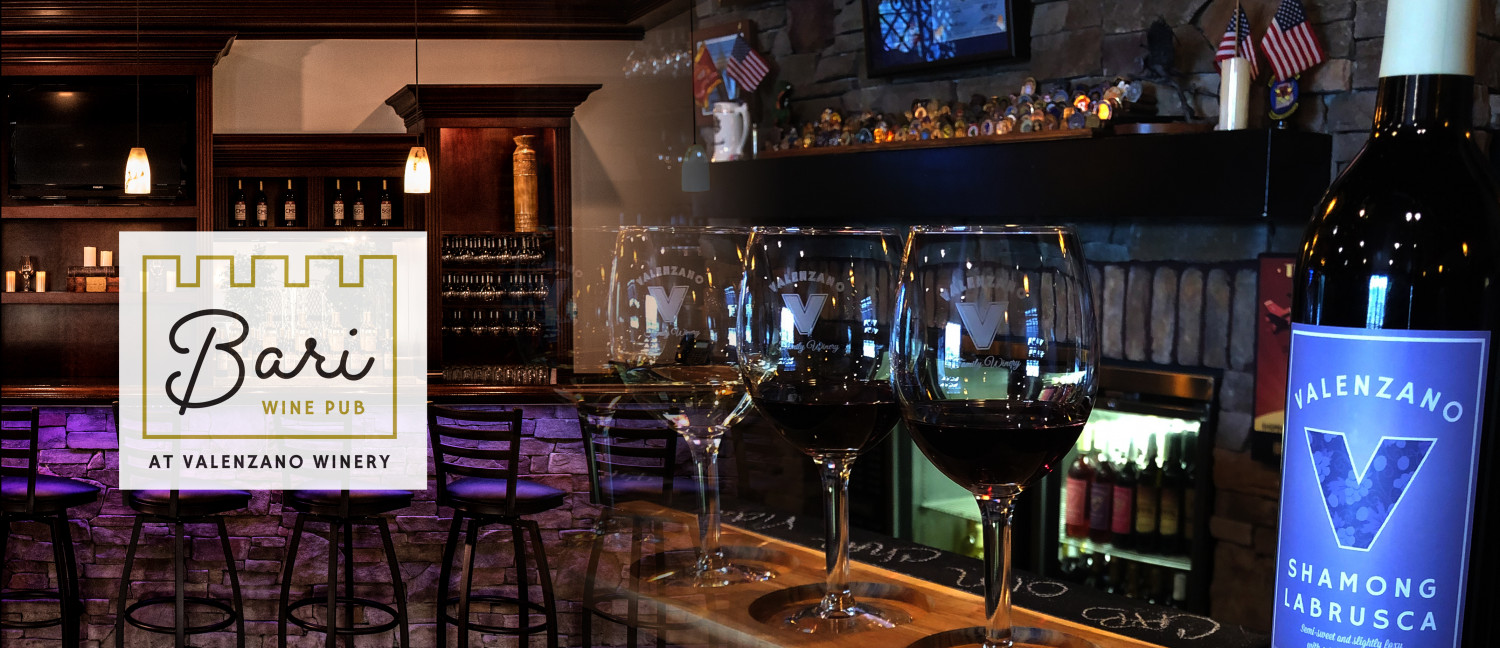 Welcome to Bari Wine Pub, Valenzano's new casual dining experience for good food and good wine in a beautiful vineyard setting. Named after the city in Southeastern Italy from which our Valenzano family emigrated, Bari offers plenty of space in a newly-renovated pub for our guests to enjoy socially-distanced, comfortable dining. We have a new menu full of appetizers, specials, and entrees inspired by our Bari origins of fresh ingredients and our love of wine. Reservations are recommended, so give us a call today or make a reservation with the link above.

Your favorite Valenzano wines are available by the glass or bottle. If you're still looking for a wine to call your own, let our knowledgeable and passionate wine tenders recommend a glass or flight. Our specialty wine flights are designed to provide a 'taste specific' sampling of the unique wines produced by Valenzano Winery. Our wine tenders are also master crafters of specialty wine cocktails. New recipes are featured every month at the Bari Wine Pub.

Now booking showers, birtday parties and other large gaterings at the Bari Wine Pub.   Dates available from January 2022 - May 2023. Call 609-268-6731 ext. 307 to inquire.
Try Bari Wine Pub's all new Party Table Experiences.  A low pressure way to enjoy the wienry with a group of friends with reserved 3 hour table times, special appetizers, and bottles of your favorite wines --- All at a low fixed price.  (available limited days - check Tock.com for availability)
Winery Shop & Curbside Hours:
Sunday- Wednesday 11am-5pm
Thursday - Saturday 11am-8pm
(Tasting room is closed certain Saturday and & Friday evenings for private events. Please call to guarantee we are open to public.)
Bari Wine Pub at Valenzano Winery
Thursday-Saturday: 11am-8pm
Sunday: 12pm-5pm
(Walk-ins welcome - reservations are required to ensure winery is not closed for a private event)
Wine Tastings at Valenzano Winery
Sunday- Wednesday 11am-4pm (Reservation not needed, but always appreciated)
Thursday-Saturday: 11am-7pm (Reservations highly recommended)
Sunday: 11am-4pm (Reservations highly recommended)