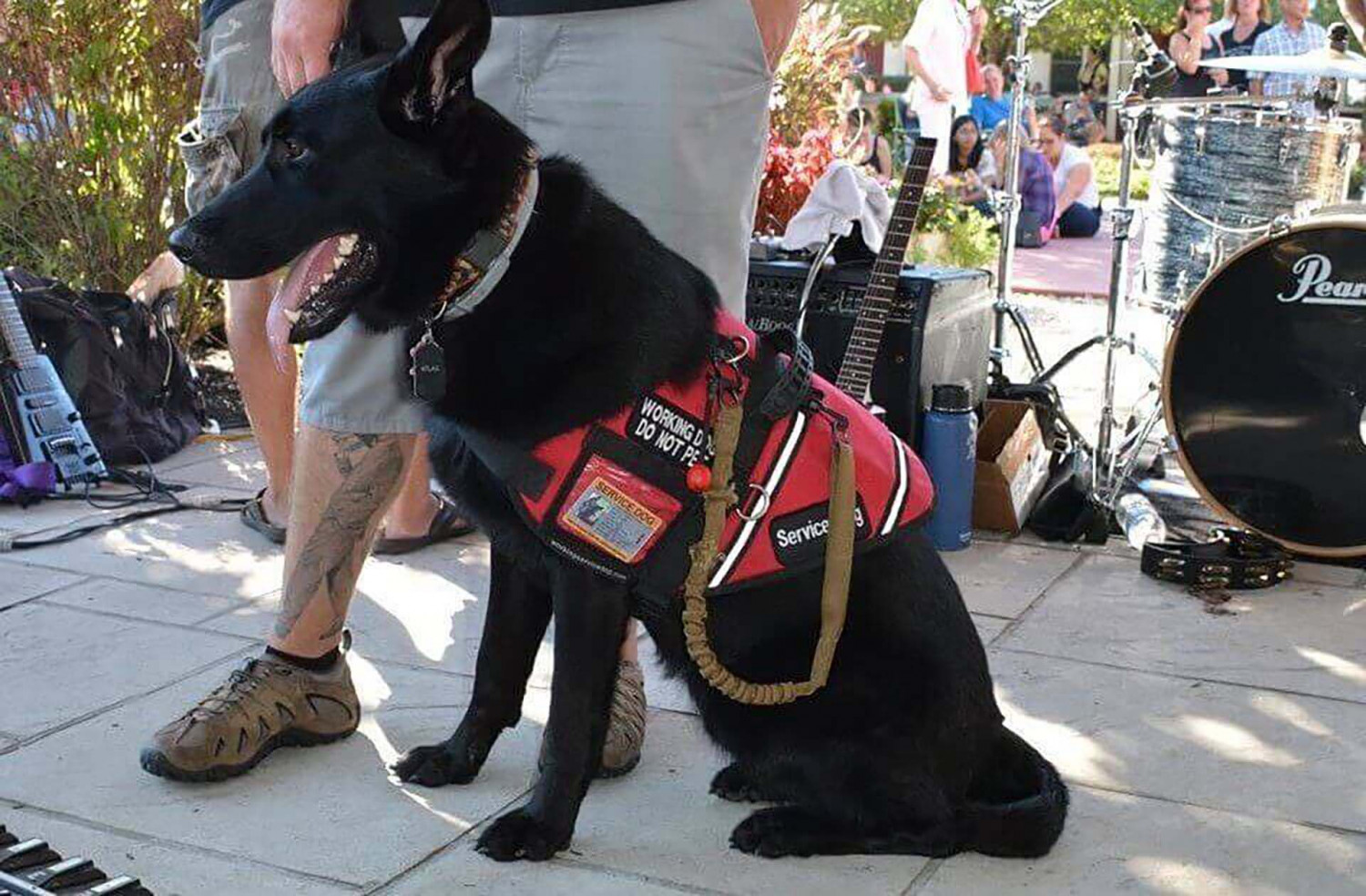 Our family at Valenzano Winery recognizes that we have been blessed with a successful business. With that acknowledgment we have made a pledge to help our local community and those who are struggling both economically and physically. Valenzano Winery has been a benefactor of hundreds of charities and fundraisers over the years. We believe that giving back is the responsibility of any community business.
A portion of the proceeds of Valenzano's 'Red, White & Blueberry Sangria' is donated to military charities. Currently, Valenzano Winery has donated $75,000 to Semper Fido (semperfido.org). The Mission of Semper Fido's program is to unite wounded warriors suffering with PTSD with homeless, rescue shelter dogs, who are evaluated and deemed viable, to nurture a healing and rejuvenating bond between the two. The result is a positive, non judgmental, unconditional relationship desperately needed by both. In the past, we have worked with Operation Troop Aid. OTA raises funds in order to send care packages to our men and women serving in the military overseas. To date, Valenzano Winery has sent over $60,000.00 worth of care packages oversees to our military. Valenzano Winery is located near the Joint Base McGuire-Fort Dix and are frequented by many men and women from this base. Throughout the years we have hosted and participated in dozens of fundraisers for the military. We were also selected to host the Army's Birthday Ball and the Marine Corps Birthday Ball. Valenzano Winery will continue to expand our charitable efforts as our business expands. As a New Jersey winery, we feel that as long as our customer base support us; it is our duty to try and make a difference by supporting our community.

Because we receive dozens of donation requests each week, we are not able to donate to everyone that makes a request, but we try our hardest. If we think a requested donation can really make a difference in someone's life then we will do our duty to try and help those who are in true need of charitable assistance. Each Christmas Season Valenzano Winery hosts a private party which supports a selected charity. Over $55,000 has been donated from our Christmas Ball & Fundraiser since it was started.
Valenzano Family Winery Donation Request Policy:
Valenzano Family Winery receives hundreds of donation requests every week. We feel it is our responsibility to give back to our community and to help those in need as much as we can. Unfortunately, we are unable to accommodate every donation request; but we do place much effort into singling out the requests that we feel will allow us to do the most good. We have a process of selecting the requests that will help those most in need and provide the greatest direct benefit. In order to do this, we need to be certain of the legitimacy of the requests that we receive. This is usually represented by providing us the name and license number of the non-profit requesting the donation. Unfortunately, it is more difficult to determine legitimacy when there is not a non-profit involved even though these requests can usually achieve our goal of assisting those most in need and in the greatest direct benefit. No requests can be approved without verification of legitimacy. Because of the number of requests that we receive, (and our goal to contribute to those most in need) we are unable to donate to community sports/athletic clubs and public-school systems/PTOs. Every school system has hundreds of fundraisers every year and there are thousands of school systems in our market. This generates tens of thousands of donation requests each year which we unfortunately do not have the resources to donate to.

Donation requests can be directed to the following location:

Email: Contact@valenzanowine.com

Mail:
Valenzano Winery Donation Request
1090 Route 206
Shamong, NJ 08088


We will reply to you via phone or email if your donation request has been approved.
We do not have the resources to reply to donation requests sent through Facebook, messenger, and/or other social media platforms.
We do not have the resources to reply if your donation request has not been accepted, nor are we able to provide status updates on donation request submissions.
Winery Shop & Curbside Hours:
Sunday- Wednesday 11am-5pm
Thursday - Saturday 11am-8pm
Bari Wine Pub at Valenzano Winery
Thursday-Saturday: 11am-8pm
Sunday: 12pm-4pm
Private Wine Tastings
Monday-Thursday: No Reservation Needed
Friday-Sunday: Reservation Required